Maurice Dixon
@WriturRece | mobasketball27@gmail.com
SUWANEE (GA) – The North Gwinnett Bulldogs weren't perfect from behind the 3-point line but it sure seemed that way.
Led by four 3-pointers from Dylan Gary (20 points) and Thomas Allard (12 points and four assists), North Gwinnett raced ahead of West Forsyth early in the first quarter on the way to a 73-49 home and non-region win January 5.
In the paint, Duke Clayton (14 points) and Clemson commit RJ Godfrey (11 points, six rebounds, four assists and four blocks) had a similar impact in the Bulldogs' fifth straight victory.
"We got some really good shooters on our team in the starting lineup," North Gwinnett coach Matt Garner said. "RJ and Duke are a load to deal with inside and when you focus on them it opens up things for the shooters. They shot some wide open shots and they went in early. That gave us some momentum to start the game off for sure."
After North Gwinnett gained control of the tip, Clayton threw a pass from the post to Allard in the opposite corner for the game's first 3 and the hot hand spread to the rest of the team. Next, Gunnar Carlberg (eight points) nailed his first shot from deep. Then Gary sank his first attempt from arc. A few possessions later, Allard kept it going with another 3 on a pass from Clayton. Afterwards, Gary drilled his second 3-point attempt on another pass from Allard.
To continue the run, Gary knocked down his third 3-pointer in the quarter and Allard finished what he started with another shot from deep for a 25-9 advantage near the end of the frame.
In the second quarter, Godfrey ignited a 10-2 surge with back-to-back layups and Gary capped it with a steal, leading to a breakaway dunk and a 35-13 lead. The Bulldogs entered the locker room ahead 46-23 at the half.
Following the break, North Gwinnett's offense continued to surge behind the efforts of Clayton, Gary, Godfrey and Carlberg, resulting in a 69-38 score heading into the final period.
Jake Mooney collected 13 points, six rebounds, four assists, three steals and two blocks for the Wolverines, who fell to 5-1 on the road. Caleb Lesch scored 12 points and Grant Moore added 11.
"I think they are favorites to win their region," Garner said of West Forsyth. "Anytime you go against another possible region champion, you want to go at them and be prepared. We executed our game plan and the guys played well."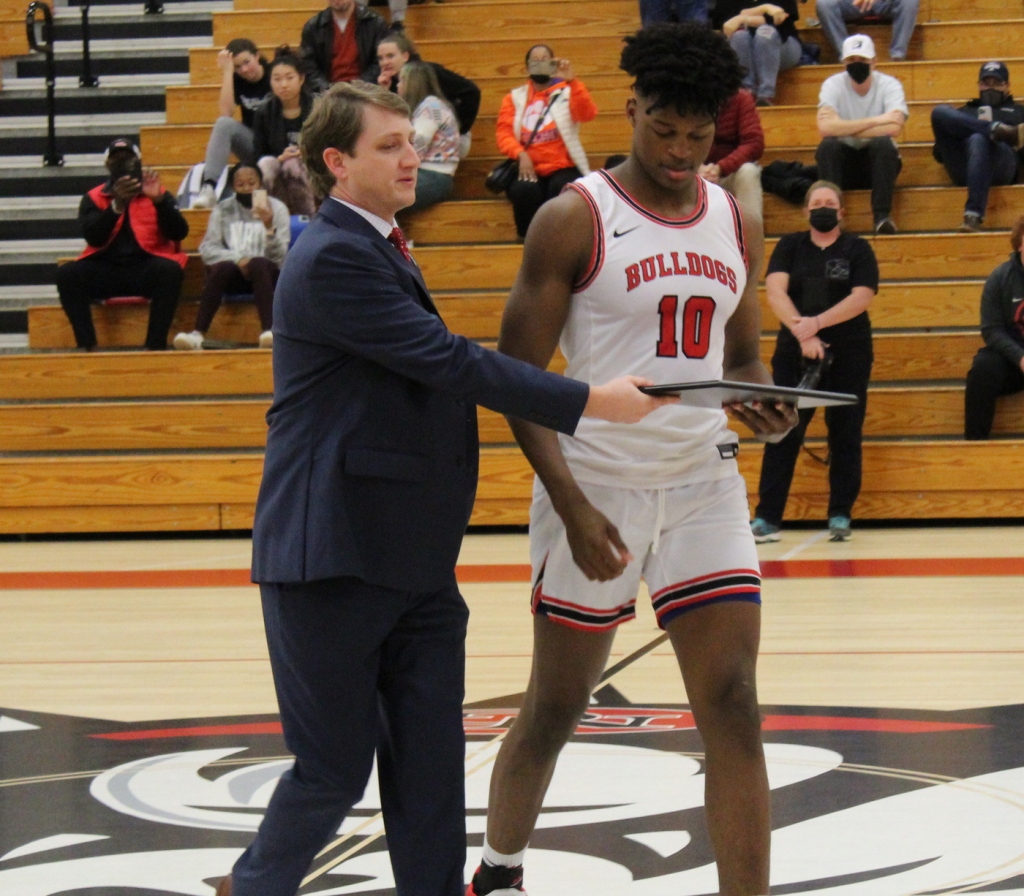 Before the game, Godfrey was honored for reaching 1,000 points over the span of his career during the Bulldogs' win over Langston Hughes on December 21.
"What is so impressive about RJ is that he is so unselfish," Garner said. "So you have a very unselfish player and he still scores a thousand points. If I told him to be selfish or he was a selfish kid and he shot the ball over 20 times a game, we might be sitting here celebrating 2,000 points. He's so unselfish and for him to be at a thousand points halfway through his senior year is a pretty impressive feat. He's good and that is the reason why he did it."