Maurice Dixon
@WriturRece | mobasketball27@gmail.com
ATLANTA – During warmups, it was clear Mount Vernon Presbyterian had an advantage as far as size and depth against Trinity Prep even though the team's records were similar. The Mustangs played to their advantage and the Lions simply couldn't match or counter it.
Led by Dennis Scott III (24 points, 10 rebounds) and Keith Williams (22 points, 12 boards, five blocks), Mount Vernon had a positive start and ran away with the contest in the third quarter on the way to a 93-59 rout at home against Trinity Prep on January 15.
With Williams, who is listed at 6-8 and 245 pounds, establishing good, low-post position against a shorter defender, the Mustangs held the lead for most of the first half and entered halftime ahead 32-25.
Not long after returning to the court, Mount Vernon (9-5) put together essentially a game-ending run of 23 straight points.
"What I'm happy about is how they responded at halftime because we didn't have a great first half," Mount Vernon Presbyterian coach Tarrik Mabon said. "We were playing a little lethargic. We had a nice win last night against St. Francis and because of that I was afraid we would come out a little slower than normal because we're still a young team. So I got on them at halftime and they responded. We scored 61 points in the second half. I'm really proud of their resolve. Their ability to take coaching and just start putting things together."
After Yosef Goulbourne (23 points, six assists) nailed a jumper to cut the Lions' deficit to 39-34, Scott III, who is listed at 6-9, responded with a jumper, Syncere Harris (16 points) drained a 3 and then found Scott for another 3, resulting in a 13-point cushion and timeout by Trinity Prep.
When the action resumed, Williams kept the momentum going with a layup before two foul shots by Kenneth Southall Jr. (12 points). Then Harris made a steal and passed to Ashton Patterson who made a pass to Williams for a one-handed, breakaway jam.
"We've been focused on keeping the game simple," Mabon said. "The way social media is now it's hard to convince kids to keep the game simple, because in this generation. I'm just trying to convince our boys to be locked in to making winning plays. Over the past four, five games, we've done a good job of playing inside out and I hope we continue to clean it up even more."
On a following trip down the court, Scott III drilled a 3-pointer on a pass from Patterson and later in the surge Southall Jr. converted a layup while being fouled. He also capped the run with a jumpshot for a 62-34 score.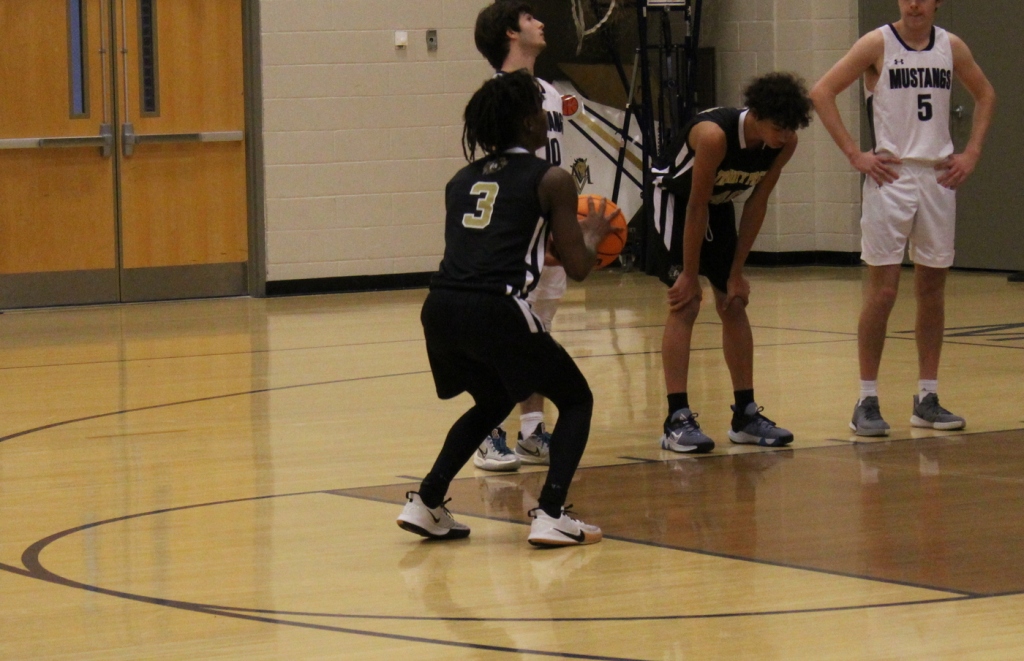 Scott III scored the team's next eight points and in the fourth quarter Goulbourne notched 15. Yechiel Steward had 11 points for Trinity Prep (7-7).