Maurice Dixon
@WriturRece | mobasketball27@gmail.com
NORCROSS (GA) – On their floor, the Greater Atlanta Christian Spartans were determined to end Sandy Creek's region winning streak but the Patriots' notable streak lived on.
With a 54-game region win streak on the line, Vic Newsom (24 points, including five 3-pointers, five assists) sank the game-winning free throws with 12 seconds left to lift the visiting Patriots past Greater Atlanta Christian 66-64 in an exciting contest on January 25.
In a back-and-forth battle for virtually the entire fourth quarter, Sandy Creek received an unexpected "gift" when Kaosi Chijioke apparently lost track of the score and fouled Newsom after Eddie Page (16 points, 14 rebounds, two blocks) tied the game at 64 with a foul shot with 14 seconds remaining.
"I feel for that kid because that was a game-changing decision he made," Sandy Creek coach Jon-Michael Nickerson said. "But Vic hit big shots for us all game. He's such a big-time player. He's got great poise and he was our closer tonight. Usually you don't know who it's going to be and that is what makes us a really dangerous team. We got five dudes who can finish the game."
However, the Spartans still had time to tie the score again and Carlton Lucas (12 points) made his way to the lane for the tying basket but the 6-7 sophomore Micah Smith (seven points, three blocks) deflected the shot and secured the ball with just 1.3 ticks left. Smith did miss both free throws but Lucas' heave from behind half court fell short of the rim.
"That was a great environment and I love our guys getting that type of big-game experience especially because we are so young," Nickerson said. "We only got two seniors. We're also the hunted. We haven't lost a region game in a long time so we're used to getting everybody's best shot but at the same time we try to make sure to remind each other that we might be the hunted but we like to hunt still. Just because you are coming after the Big Bad Wolf doesn't mean anything because are still wolfing ourselves."
Before the tightly contested final quarter, both teams were able to build some distance on the scoreboard.
In the opening quarter, the 3-pointer fell early for the Patriots, who jumped ahead 9-2 with 5:52 left in the frame. But Athan Pohlman (six assists) scored nine of his 13 points in the quarter to help GAC obtain a 18-14 advantage heading into the second period.
Josh Fulton (16 points, nine rebounds, three blocks) picked the scoring load from there, notching 10 points in the second quarter to build nearly a double-digit lead for the Spartans. The 6-6 senior also reached the 1,000-point mark on an offensive rebound and layup for a 27-20 score.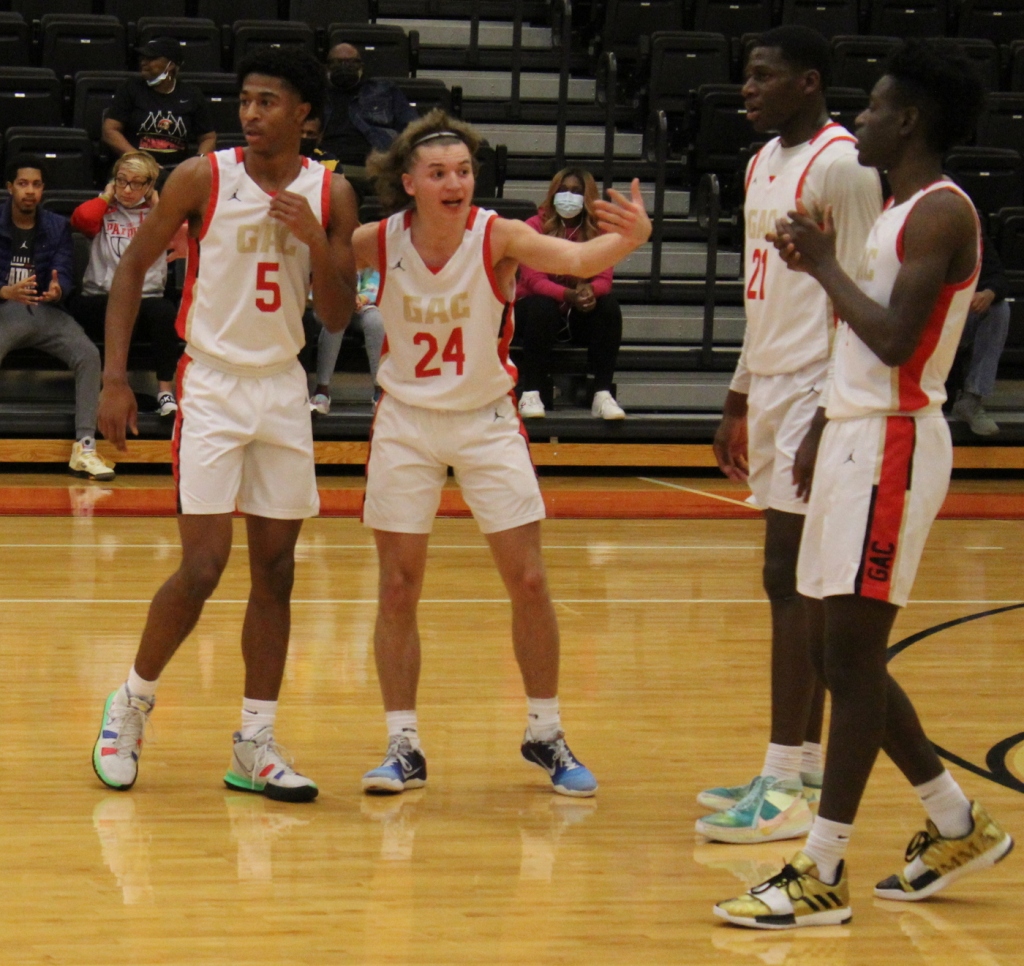 "Our defense stepped up," said Nickerson of the 37-33 score after two quarters. "We made a good run but I real pleased at the end of the first half just to be down four. I call them [Mike] Tyson haymakers. They give you that Tyson uppercut trying to knock you out in the first 30 seconds of the first round but we just weathered the storm. I was happy to be down just four with how crazy the student section was."
Following halftime, Aidan Bevrotte scored 10 of his 18 points in the third to eventually put Sandy Creek in front by two with a quarter left to play.
"He's been a second-half player for us all season," Nickerson said. "Too often he gets in early foul trouble in the first half and it throws his rhythm off but there is just something about him that just wakes him up in that second half. He becomes a monster. You saw him attacking the rim, finishing and getting And 1s."
Newsom scored eight points in the fourth before his clutch free throws to counter the dominance on the boards and strong two-handed dunks in the lane by Page. Amari Brown had 11 points for the Patriots, who have won the last five meetings against the Spartans.