Maurice Dixon
@WriturRece | mobasketball27@gmail.com
DULUTH (GA) – Peachtree Ridge and Duluth High are really close to each other, specifically just four miles apart. But in their lone meeting of the 2021-22 regular season, the Lions and Wildcats were not close for long on the scoreboard.
Ignited by Jairus Griffin, who scored 10 of his 14 points in the first quarter, Peachtree Ridge quickly jumped ahead by double digits and maintained that margin on the way to a 67-44 road win over Duluth on November 19.
In the first three minutes, the Lions (2-1) essentially delivered a knockout blow with a 13-0 run.
"We talked in the locker room that we needed to get out to a good start," Peachtree Ridge coach Jordan Griffin said. "I thought tonight we had that laser-like focus and we jumped on them early. Duluth is a good team and I knew if we didn't try to put them away early it would be a long game and we would be in for a long fight. I thought we executed that really well in the first quarter."
After receiving a pass from Malcolm Noel (nine points, at least five assists), Jairus Griffin opened the scoring with a jumper. Next, Noel found Andrew Makinde for a layup and Bradley Goines (10 points, at least four assists) nailed a 3-pointer. Then Griffin turned a steal into a layin, resulting in a Duluth timeout with 5:27 left in the frame.
Following the pause in the action, Griffin stayed aggressive, converting an offensive rebound into a jumper, and finally he scored a layup on a pass from Noel for a 13-0 score. Peachtree Ridge closed the quarter ahead 21-8.
Even though Duluth increased its offensive output in the second quarter, the Lions entered halftime with a 35-23 advantage and kept the margin wide from there on.
Along with Peachtree Ridge consistently taking away Wildcat possessions, Wesley Isoje (eight points, three blocks) had a breakaway steal and easy finish of his own as well as two shot attempts he pinned to the backboard.
"Wes did a great job for us," Jordan Griffin said. "He's been injured but this is his first game back. He had a lot of energy and was ready to play. I'm proud of him. We needed every blocked shot he gave us and his defensive presence down low really helped us."
Rashad Dames also had eight points and three steals but the best steal and score came from Jairus Griffin who threw down a one-handed slam in the fourth quarter.
"We really work on being able to anticipate on defense," Jordan Griffin said. "One thing that has been a point of emphasis for us is that we got to be a better defensive team. We want to be able to score easily. It's a fun style of basketball when the fans see you going up and down the floor quickly. We try to hang our hats on our defensive effort and we've been doing a great job early in the season of not giving up too many points, trying to force a lot of turnovers to create easy baskets."
Andrew Daniels (14 points, 12 rebounds), David Culbreath-Martin (10 points), Takata Murphy (nine points, five steals), and DJ Phipps (nine points) all had a solid outing for the Wildcats.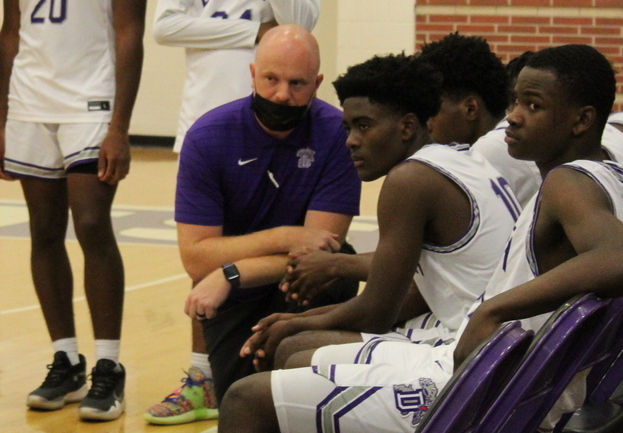 "I'm new to the region, Gwinnett [County] and Peachtree Ridge," Griffin said. "This is my first year. Believe me, my administration let me know about the importance of this game and the players did as well so we were happy to come here in a big, rival game. You want to beat the team that is right next door to you. I think they are going to be good and got a good, young group but tonight I thought we played almost a complete game."